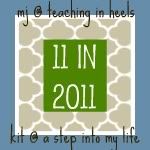 We don't eat a lot of leftovers in our house. I've never been a big leftover eater and my kids can be quick picky. Sometimes I grill or bake extra chicken for upcoming recipes, but I try to cook enough for our family for one meal. If we do have leftovers, my hubby usually takes them for lunch.
I do have a really good beef stew recipe that tastes even better the next day, when all the flavors have meshed together. It comes comes from the
Better Homes and Gardens New Cook Book
that I got a decade ago and is completely falling apart. It seems like a lot of ingredients but it comes together really quickly and easily. (Note: I'm listing the crockpot version because that is how I always make it.)
Old Fashioned Beef Stew
2 T. flour
1 lb. beef stew meat (cut into 3/4 in. cubes)
2 T. cooking oil
2 c. vegetable juice
1 c. water
1 medium onion, cut into thin wedges
1 t. instant beef bouillon granules
1 t. Worcestershire sauce
1/2 t. dried marjoram
1/2 t. dried oregano
1 bay leaf
2 1/2 c. cubed potatoes
1 c. frozen green beans
1 c. frozen corn kernels
1 cup sliced carrots (I use one bag of frozen vegetables to replace the green beans, corn, and carrots)
Place flour in a plastic bag and add meat, shaking to coat. Brown meat in the hot oil. Drain. Layer the meat, onions, potatoes, and frozen vegetables in crockpot. Combine vegetable juice, water, bouillon granules, Worcestershire sauce, marjoram, oregano, bay leaf, and 1/4 t. pepper. Pour over meat and vegetables. Cover and cook on low heat for 10-12 hours or high heat for 5-6 hours.
This stew is hearty and delicious and even better the next day!