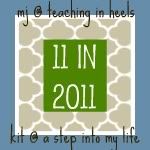 I can't believe it's the last day of the 11 in 2011 blog challenge! It's been so much fun! I've been inspired and have found some great new blogs.
Today's Topic: What Are You Looking Forward to in 2011
2011 has started out great, and I'm hoping that it continues on this path! I have many things that I am looking forward to this year, Lord willing.
Student Teaching
I'll begin my student teaching in February, less than a month away. It's exciting and a little scary all at the same time. I'm hoping my maturity (aka: age) and experience as a mom will help me in the classroom.
Holidays
I love decorating for and celebrating holidays with my family.
Vacation
We are planning a great trip to Colorado this summer and I just can't wait!
10th Wedding Anniversary
I feel so blessed to have spent the past 12 years with my wonderful husband. I'm so glad we are celebrating 10 years of wedded bliss this year!

Romance
I'm looking forward to a romantic getaway with my hubby and some date nights.
Summertime
...and the living is easy! I think it will be especially true this year since I'll just be finishing up student teaching and balancing the other three million things I have going on. Summer is my time to relax. Bliss!
Birthday Parties
My children have birthdays five days apart in June, and I absolutely LOVE planning their parties. I seriously start planning months in advance, and I think I get more excited about it than they do! :) I really want to do a combined circus/carnival themed party this year, but my daughter wants a party at Chuck E. Cheese. (Boo) We'll see how this one pans out, but I will plan a party sometime this year!
Balloon Fiesta
We are planning on going to the annual
Balloon Fiesta
in Albuquerque, NM this October. Our youngest hasn't been yet, so I'm excited for him to see it!
Being Thin Again
This was me right before I found out I was pregnant with my youngest (who is 2 1/2 now). Big difference from where I am now, but I am working on it and am determined to lose the weight.
Spreading God's Word
Our
congregation
is organizing a huge door-knocking campaign to spread the Gospel. It is happening in June, and I'm really looking forward to it. I'm praying that it will be a huge success and that we will be able to reach a lot of people.
Wishing you all a fabulous 2011!!!