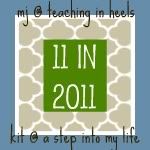 Click on the box above to participate in the 11 in 2011 blog challenge.
Today's Topic: Best Organization Tricks
I love organizing things! I just recently purged every closet in my house of items no longer needed and organized everything. I have a few tricks for keeping things in order.
1. Use containers. I use a variety of sizes and shapes to organize everything from craft supplies to bathroom toiletries to food items in my pantry. They are great at keeping small items corralled. Everything in its place!
2. Have a good filing system. To keep a handle on paperwork and bills, we use an accordion file folder and label each section by month. We put all bills and important paperwork in the corresponding month. Once the year is over, we store them by category in a large file cabinet. We pay most of our bills online which cuts down on the paperwork.
3. Create a place for "stuff". Select a spot to store items like keys, cell phones, etc... so they don't get lost! We have a hanging organizer near our front door that holds keys and has slots to hold stuff.
4. Plan ahead. Get clothes, bags, purses, etc... ready the night before so that mornings go smoothly. As a mommy, this is critical. I actually plan menus, get outfits ready for the entire week, etc... on Sundays so I'm ready for the week.
5. Invest in a day planner. I would be lost without my planner. It helps me keep track of important events and obligations so I don't miss them. I also keep a planning calendar in my kitchen so that I see everything in two places.
Those are my tips. Can't wait to see what everyone else suggests!