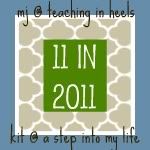 Click on the box to participate!
It's day 8 of the 11 in 2011 blog challenge. Today's topic: Favorite Healthy Snacks
Almonds- These provide an energy boost and are super healthy. I just try to make sure I eat them in moderation because they do have a lot of fat (but the good kind of fat).
Fresh fruit. I love just about every fruit. I wash and prepare snacks size bags of fruit the night before I need them so that I can just grab a bag on my way out the door.
String cheese. I love cheese but it is loaded with fat, so I grab a low calorie, reduced fat cheese stick instead.
Smoothies. I love me a good smoothie! I love trying different combinations.
Can't wait to see what everyone else snacks one!