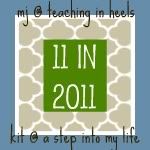 Click to participate
It's day 10 of the 11 in 2011 blog challenge. Only one more day left. It's been fun! Today's topic is Favorite Girls Night Out Events.
My friends and I don't get enough "Girls Nights Out". We are all mommys of young children, so most of our get togethers are playdates. We are not into the bar/party scene at all, so when we do get a rare opportunity to go out, here's what we usually do:
*Have dinner at a great restaurant and talk for hours! (And we usually have husbands calling a lot with questions like, "When are you going to be home?")

I also love meet friends for coffee and just chat.
It's just always nice to get together with friends when we are not distracted with children. "Girls Night Out" is so important, especially when you are a mommy. You've got to get away occasionally and have some down time!
Can't wait to see what everyone else does!